Death Cafe – Jaffrey
August 26
@
2:00 pm
–
3:30 pm
EDT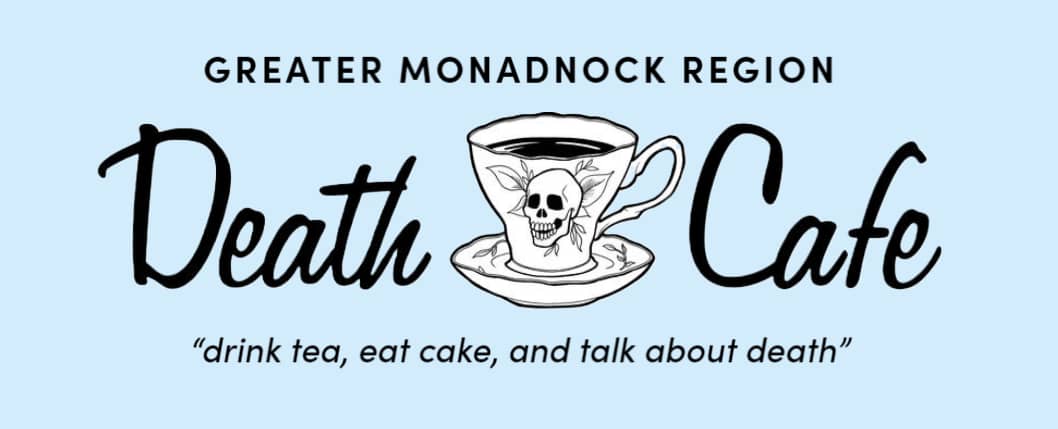 A Death Cafe is an event where people get together to drink tea, eat cake, and discuss death. Our aim is to increase awareness of death to help people make the most of their (finite) lives.
🌟 Why Attend? 🌟
Connect: Forge meaningful connections with others who share your curiosity.
Reflect: Engage in thought-provoking discussions that can lead to personal growth.
Normalize: Help break down the stigma around talking openly about mortality and end-of-life matters.
Celebrate Life: Embrace the idea that discussing death can enhance our appreciation for life.

🔹 Limited spaces are available, so reserve your spot today!
🔹 Open to all ages and backgrounds – everyone's perspective is valued.
🔹 There is no charge to attend, but registration is required.
Register: https://www.eventbrite.com/e/greater-monadnock-region-death-cafe-jaffrey-tickets-695086862517
Join us for an afternoon of insightful conversations, soul-stirring reflections, and delightful treats. Let's gather to honor life by exploring its inevitable conclusion. Come with an open heart, an open mind, and a willingness to engage in the conversation of a lifetime.
Let's embrace the beauty of shared dialogue at the Death Cafe – because every conversation about death is a celebration of life. Refreshments will be provided, but you are welcome to bring your own beverages/snacks. Doors will open at 1:45 and close at 2:10 to facilitate a safe space for discussion.
Please note that Death Cafes are not grief support groups. Some of the topics may be triggering to those who have recently experienced the loss of a loved one. However, grief is always a possible and welcome topic. 
To learn more about Death Cafe, please visit https://deathcafe.com.
About Rev. Jessica Johansson
Rev. Jessica Johansson, M.Div. is an Ordained Interfaith Minister, End-of-Life (Death) Doula, and After-Death Care Educator. She is passionate about opening up the conversation around death, especially as it pertains to life and what really matters to each of us, in a safe and welcoming manner.